About the Haravan Partner Program​
The Haravan Partner Program is a diverse group of designers, developers, marketers, and affiliates who use the Haravan platform to build ecommerce websites, themes, and apps. We offer our partners three great ways to grow their business and generate ongoing monthly revenue:
Refer clients to Haravan
Create ecommerce themes and publish them in the Haravan Theme Store
Create Haravan apps and publish them in the Haravan App Store
Your clients will love our multi-channel platform that allows them to sell anywhere, securely and reliably. Haravan offers full storefront customization to help you deliver exactly what your client is looking for. More than 1,000,000 merchants around the world are powered by Haravan, and many of them are looking for help building and customizing their stores.
Become a Haravan Partner​
The Haravan Partner Program is free to join and lets you experiment with the Haravan platform through unlimited test stores. For every client you refer, theme you design, or app you build, you'll receive ongoing monthly income from Haravan. There are some other benefits too, like early access to new features, marketing materials, and access to a collaborative community of other Haravan Partners around the world.
Using the Partner Dashboard​
Your Partner Dashboard is the best place to keep in sync with the apps, themes, and businesses that you're building with Haravan. You can use it to keep track of the following information:
Stores that you're developing or managing for your clients.
Revenue, installs, and other data for the apps, payment gateways, or themes that you've published.
Managing your leads and referrals​
From the Referrals page, you can track the status of your submitted leads, sort, filter and search for leads, and find the contact information of the Haravan sales representative assigned to your lead. You can contact your assigned Haravan representative to ask questions or request sales support for your lead.

On the Affiliate tools page, you can view a list of all your successful referrals, including stores that you've created for merchants.
Managing stores​
As a Haravan Partner, you can use stores as a tool to build products for merchants. You can also access merchants' stores to help them to meet their business' needs. You can use the Haravan Partner Dashboard Stores page to create and access stores. You can perform the following tasks:
Create and manage development stores. Development stores can be used to test features in a developer preview, test an app or theme, or configure and then transfer a customized store to a client.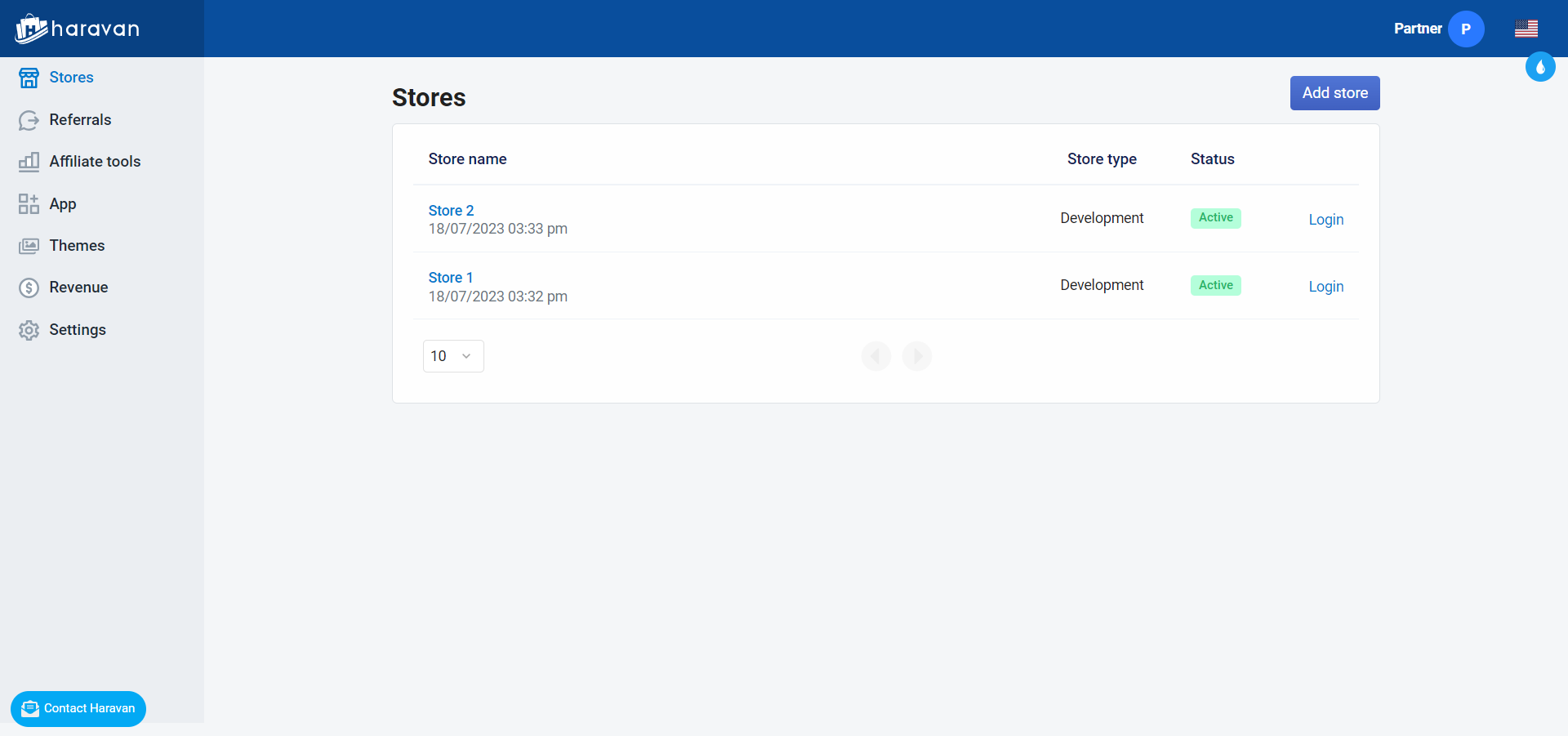 Making Haravan apps​
Haravan's APIs provide an almost unlimited set of possibilities for interfacing the Haravan platform with third-party software. Learn more about build an app
Dive into making your first Haravan app with our getting started guide. We'll walk you through the process of getting an API key, creating a test shop and playing around with the API.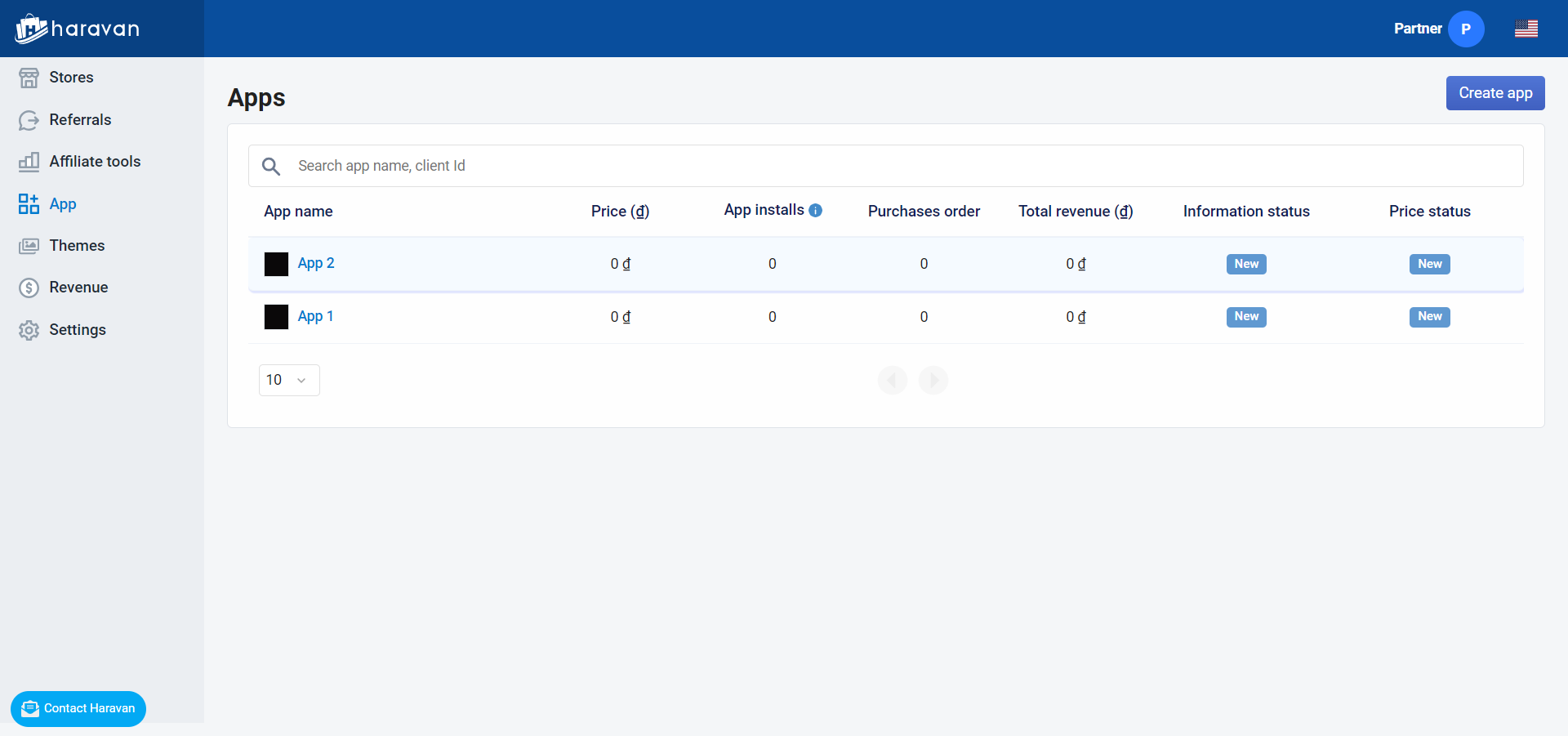 Learn more about build an app
Making Haravan themes​
A theme determines the way an online store looks, feels, and functions for merchants and their customers. If you're new to Haravan themes, then refer to the Haravan themes overview.
Themes are built with Liquid, Haravan's theme templating language, along with HTML, CSS, JavaScript, and JSON.
You can sell your theme on the Haravan Theme Store and reach an international audience of millions of merchants. The first step is to get familiar with the Theme Store requirements. The checklists cover everything from technical and performance requirements to theme design and user experience. When you're ready to share your theme, learn about the theme review process and how to submit your theme to the Haravan Theme Store.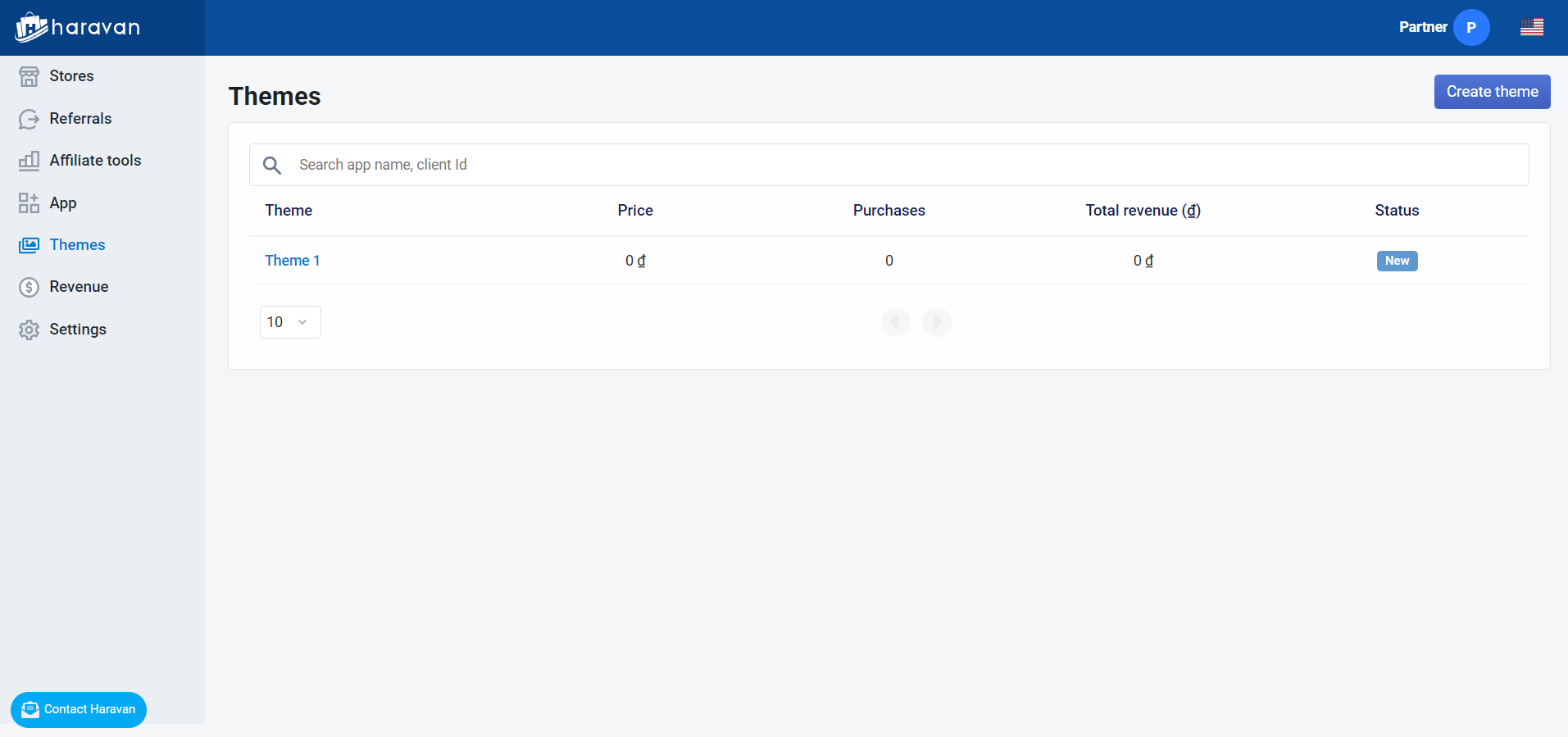 Learn more about build an theme
Manage Revenue​
Monthly revenue through charts is clearly calculated by:
Refer clients to Haravan.
Create Haravan apps and publish apps in the Haravan App Store.
Create ecommerce themes and publish themes in the Haravan Theme Store.
Manage Partner settings​
Your Partner settings let you manage key information about your Partner Organization, including the following items:
Contact information for your business. Haravan uses this information to communicate with you about important updates and information about your Partner organization and the technologies you use.
Financial information, including payout methods for earnings, tax information, and billing information for Partner expenses.
Join the Partner program now, develop apps, themes and services in Haravan to reach more customers and get attractive discounts.