Create a private app
Docs version 1
As a haravan developer, you have the option of creating public or private apps. Public and private apps share the same basic functionality, except that private apps are locked to only one store, and only that store will have access to that app.
Generally, when store owners hire a developer to create an app for their store, it is installed as a private app. If you are a developer interested in creating a public app, visit our Getting Started guide.
In this article:
Setup
Private apps interact with a store via the haravan API. You can easily generate API keys through your store's Apps page.
To create or view API keys, click Private Apps in the header of the Apps page.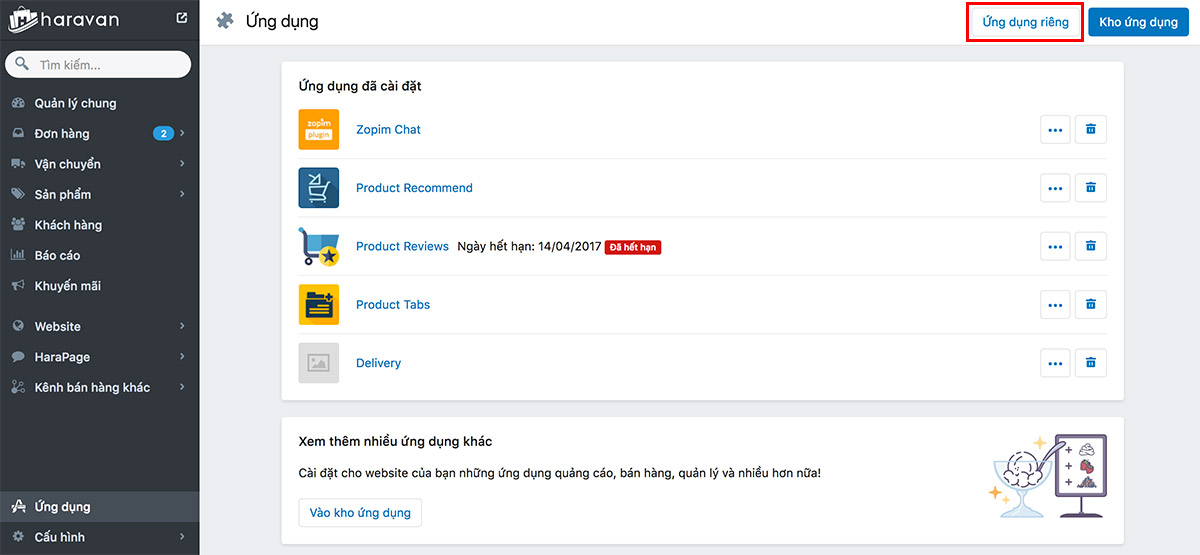 If this is the store's first private app, the page will prompt you to Create a Private App.
If the store has other private apps installed, they will be shown on this menu, click Create a Private App in the header of the page.
Treat all API keys a password to the store Admin. With an API key and password, you can access and modify the contents of your store.
Private apps already have built-in authentication. haravan generates the apps key and OAuth token which can then be used to authenticate a private apps request.
Editing a private app
To view a private app's details, click on its title from the apps menu.
The app's details page allows you to edit the Title and Contact email for the private app. This page also displays the authentication details for the app, which you will need to make API calls.
The private app details page will also display an example URL for you to test your API key and password. If you make a call to that URL, you should be able to view the orders for your store.
Reminder
All API requests must be done using SSL.
Deleting a private app
To delete a private app from the app details page, click Remove this app.
To delete a private app from the private apps menu, click the Trash can icon inline with the app.