The Haravan Embedded App SDK is here.
The next generation of Haravan Apps now live directly inside the Haravan Admin. Using the Haravan Embedded App SDK, you will offer your users a seamless user experience.
Find out more about the SDK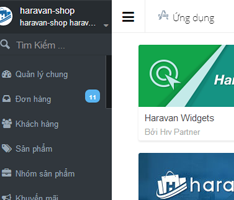 Making Haravan Apps
Are you a developer looking to create a Haravan App?
The Haravan API allows for an almost unlimited set of possibilities for interfacing the Haravan platform with your favorite CMS, web app, or other third party software.
The new Haravan Embedded App SDK is now at your disposal for you to create immersive, in-admin applications, for an improved, highly engaging user experience.
Getting started with the Haravan API is easy. We have a great getting started guide to help you start building your app, tutorials that can help you through more advanced issues and API Reference for learning exactly what our API can do.
Sign up
The Partner Program
Earn money building Haravan Apps.
Refer a client to Haravan and earn 20% lifetime revenue share, or sell an app in our App Store to earn great passive income.
Haravan's API currently supports both JSON and XML, however JSON is the preferred method for API consumption. Over the coming months, XML will slowly be deprecated. All concerned parties will receive a deprecation notice once this comes to pass.